November 11, 2021, Beijing, China – Today, Memblaze officially announced the launch of PBlaze6 6530 series PCIe 4.0 enterprise SSD oriented towards the mainstream market after releasing the first PCIe 4.0 PBlaze6 6920 ultimate SSD series in April. Based on the Memblaze self-developed Unified Framework Platform (MUFP), the PBlaze6 6530 series supports NVMe 1.4 specifications and adopts the latest 176-layer enterprise level 3D eTLC NAND flash memory. Compared with its predecessor, the PBlaze6 6530 series features higher endurance, significantly improved performance, with Random Read reaching up to 1100k IOPS. PBlaze6 6530 series supports more enterprise functions and security features, meeting the stringent requirements of hyperscale users in internet, cloud computing, finance and telecommunications etc. filed.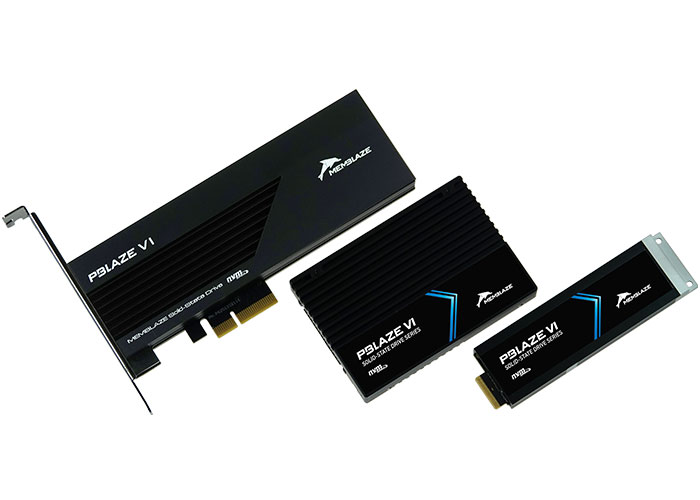 PBlaze6 6530 Series PCIe4.0 NVMe SSD
Better performance greatly accelerates applications
PBlaze6 6530 series enterprise SSD supports PCIe 4.0 x 4 interfaces and enjoys superior Read/Write bandwidth. With latest 176-layer enterprise 3D eTLC NAND flash memory and MemSpeed 4.0 technology, it can provide 4K Random Read performance up to 1180k IOPS, 4K Random Write performance exceeding 425K IOPS, and sequential Read/Write bandwidth reaching 6.8GB/s and 4.8GB/s, respectively. Therefore, it can deliver better performance for enterprise users, supporting substantial acceleration in business applications.
Lower latency ensures outstanding user experience and consistency
On the basis of deep optimization of IO processing logic, PBlaze6 6530 series shortens command response and reduced the overall write latency to 10μs by optimizing the write I/O path. Meanwhile, the read latency has also been improved, reduced to 72μs. In addition, the optimization of the scheduling mechanism ensures the QoS and consistent performance, thereby making the latency-sensitive applications running smoothly.
Low power and flexible power configuration help meet different business demands
PBlaze6 6530 series adopts low-power hardware design, and optimizes data path and algorithms, drastically boosting the performance delivered per watt of power. With an energy efficiency 172% higher than that of its predecessor, PBlaze6 6530 series enjoys better performance and lower power consumption. The series features a 11W typical write power consumption and offers dynamic power adjustments from 6W to 14W by per 1W, so as to accommodate users' different power configuration demands.
Ultra-long write endurance ensures long-term and stable operation of the applications
By adopting the highest grade of eTLC NAND, PBlaze6 6530 series enables newly-upgraded MemSpeed4.0 technology set, and optimizes write path and algorithm, achieving ultra-long write endurance. PBlaze6 6530 series offers three capacity sizes, including 1.92TB, 3.84TB and 7.68TB. As per JESD219 standard, its write endurance can be up to 1.5 DWPD (5 years), 50% higher than that of the predecessor and suitable for mainstream workloads. PBlaze6 6536 offers three capacity sizes, including 1.6TB, 3.2TB and 6.4TB, and its endurance can be up to 3.3 DWPD (five years), suitable for businesses with higher write endurance needs. Both models provide 2.5-inch U.2 and half-height half-length (HHHL AIC) specifications in all the capacity sizes.
Richer enterprise-class features and reliable security performance
PBlaze6 6530 series enterprise SSD supports NVMe 1.4 specifications and provides richer enterprise features, such as Persistent Event Log, NVMe-MI, Telemetry, Sanitize, TCG Opal 2.0, with a view to improve the reliability, manageability and security. Meanwhile, it also has a host of functions in which enterprises users are interested, such as full data path protection, NVMe end-to-end data protection, variable Sector Size management, weighted round robin (WRR), AES data encryption, device self-test and online firmware updating.
"I would like to offer congratulations to Memblaze on its release of the second PCIe 4.0 SSD. On the basis of maintaining consistent performance and stability, this new product also deeply fortifies rich enterprise features. Enhanced TCG and End-to-End Data Protection have brought sight to the further consideration of China SSD manufacturers about user data security. H3C will continue to work with Memblze to deliver secure, rapid and user-friendly applications and services to users," said Runan XU, General Manager, Storage Products Department of H3C.
"Congratulations to Memblaze for releasing the latest 176-layer NAND enterprise PCIe 4.0 SSD. Tencent Cloud will continue to work with Memblaze to provide users with safe, flexible, fast and easy-to-use business and services."-Head of Tencent Cloud NPI Fengying Chen said.