July 29, 2020 - Beijing Memblaze Technology Co., Ltd. ("Memblaze") today announced the release of low-power enterprise-class PBlaze5 520 Series NVMe SSD, which can meet the demand of energy conservation of green data center. The PBlaze5 520 Series NVMe SSD adopts 96-layer 3D eTLC NAND, provides capacity ranging from 1.6TB to 3.84TB, and comes in both 2.5" U.2 and HHHL form factors, offering flexible options for enterprises to deploy green data center. The PBlaze5 520 Series consists of models such as PBlaze5 C520, PBlaze5 D520, PBlaze5 C526 and PBlaze5 D526.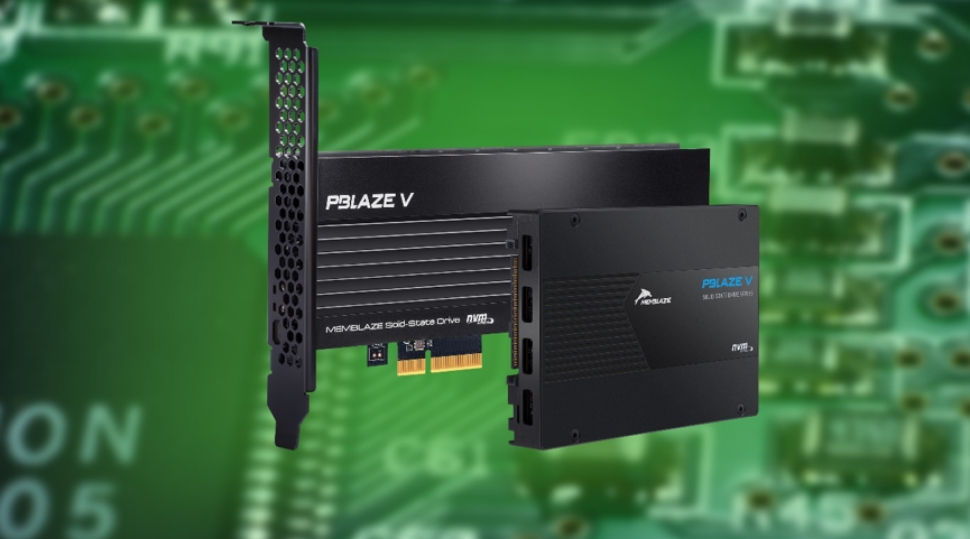 PBlaze5 520 Series Low Power Enterprise-class NVMe SSD
The Memblaze PBlaze5 520 Series employs 8-channel architecture, offers up to 520K random read IOPS and 3.3GB/s read bandwidth, with read and write latencies lowering to 85μs and 15μs respectively. All these features contribute to the 6-fold improvement in its performance compared with enterprise-class SATA SSD. The typical power consumption of this Series is only 9W and the standby power consumption is as low as 4W. PBlaze5 520 Series also supports accurate power control per watt, which can dramatically cut back on the Capital Expenditures (CAPEX) and Operating Expense (OPEX) of the devices in data center.
Out-of-band management of NVMe-MI interface, improving operation efficiency
Memblaze PBlaze5 520 Low-power Series is compatible with NVMe-MI interface, allowing users with batch SSD deployment to manage and monitor basic information query, health status, power consumption, temperature and other information about the running conditions of SSD products through out-of-band management. Under the application scenario of large-scale deployment of NVMe SSD, the NVMe-MI interface of the PBlaze5 520 Series will significantly improve the management and operation & maintenance efficiency of IT system.
Dual Self-Test, facilitating more flexible monitoring
In addition to power-on self-test function, the PBlaze5 520 Series also supports Device Self-Test. The PBlaze5 520 Series allows users to actively trigger the self-test program via the open source command-line tool to complete the S.M.A.R.T. alarm test and capacitance validity test. The Self-Test function of PBlaze5 520 Series further enhances the test degree of SSD health status and capacitance validity to meet the stringent requirements of enterprise users for data security protection.
Richer functions for enterprise-class storage
The PBlaze5 520 Series supports dual port function, i.e. the two ports can be accessed simultaneously, which solves the single-path failure problem and ensures continuous data access, thereby meeting enterprises' requirements for high availability. The PBlaze5 520 Series also backs up Reservation function, and each namespace can be accessed by two or more hosts simultaneously. Furthermore, this Series is enhanced by rich enterprise-class product features such as online firmware upgrade without reset and Variable Sector Size Management.
Traditionally, firmware upgrade requires a restart of the server, while the PBlaze5 520 Series supports online firmware upgrade without reset. Firmware upgrade can be completed without stopping businesses or shutting down systems, featuring simple operation and less error. For storage systems with high reliability requirements, such function of online firmware upgrade without reset can guarantee the continuity of storage system services and help enterprises improve business operation efficiency.
Variable Sector Size ("VSS" for short) keeps corresponding metadata while saving the user data. The PBlaze5 520 Series supports 512, 4096, 520, 4104, 4160 bytes sector size, which means an I/O from service application can carry 8 bytes or 64 bytes of metadata at the same time. Under the premise of ensuring highly consistent performance, the VSS technology further guarantees that the high requirements of storage system and distributed file system for data reliability can be satisfied.