January 10th, 2023 — Memblaze today officially released the new PCIe 4.0 NVMe enterprise SSD PBlaze6 6930 for data center applications. It provides up to 1,600K IOPS 4K random read performance, presents more enterprise security features and higher reliability, and a maximum user capacity of 30.72TB. All these features will better support the cloud computing, big data, artificial intelligence, and other I/O-intensive applications.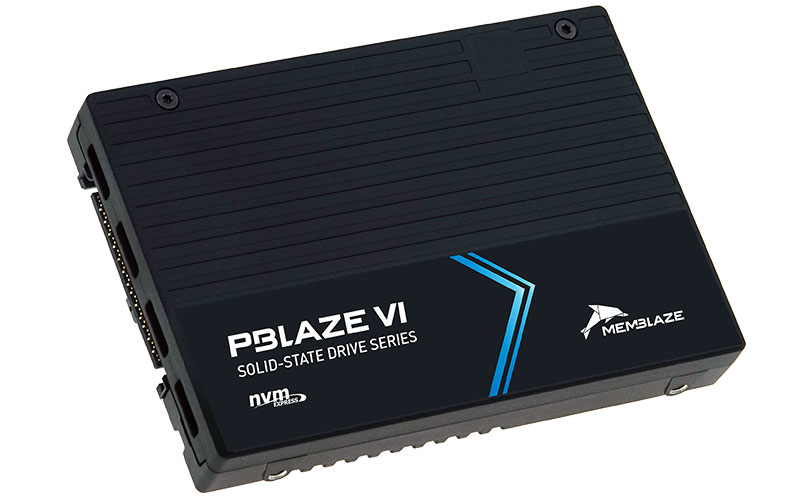 PBlaze6 6930 Series NVMe SSD
"With the explosive growth of data, the demand for high capacity and performance enterprise SSDs is increasing. The new PBlaze6 6930 not only signifies further breakthroughs in performance and reliability, but also offers the capacity up to 32TB , allowing customers to easily cope with the increasing demand for data usage, and obtain higher data density and energy efficiency."—Dr. Taile Zhang, CEO of Memblaze.



Ultimate Performance, Further Accelerate Applications for Data Centers
The PBlaze6 6930 Series NVMe SSD adopt 176-layer TLC NAND, optimized by hardware design and self-developed MemSpeed 4.0 technology set to achieve further improvement in IO performance and power consumption ratio.
PBlaze6 6930 offers up to 1,600K/680K IOPS 4K random read/write performance, 7.1GB/s 128K sequential read bandwidth, and 7.0GB/s 128K sequential write bandwidth, all of these have reached the leading level of current PCIe 4.0 SSDs.
With 4K read/write latency reduced to 69/9μs, combined with multi-core optimization, I/O intelligent scheduling algorithm, dynamic smoothing algorithm, and Flash-Channel QoS optimization technologies, PBlaze6 6930 can bring faster response time and provide guarantee for the stable business operation.
Power consumption is further optimized, providing five levels Power Management from 12W to 25W.

Up to 32TB, With Higher Capacity and Endurance Lifetime
The PBlaze6 6930 series support 25.6TB and 30.72TB user capacities, which can bring more than 700TB of storage capacity on a standard 2U server, allowing customers to achieve more metrics such as storage capacity, I/O performance, endurance lifetime, and power consumption ratio with less hardware investment.
It also supports 6.4TB, 7.68TB, 12.8TB and 15.36TB capacities, provides 1.5 DWPD and 3.3 DWPD models to satisfy the needs from diverse users.



Based on MUFP, High Reliability Guaranteed
PBlaze6 6930 is developed based on Memblaze's self-developed MUFP (Memblaze Unified Framework Platform). With the help of MUFP's excellent cross-platform firmware algorithm, it realizes the perfect inheritance of the firmware functions and reliability from previous products. The in-depth optimization of its own hardware further facilitates full performance utilization and delivers higher reliability.



Rich Enterprise Features , make Data Safe
PBlaze6 6930 Series NVMe SSD support NVMe 1.4 specification, provides Full Data Path Protection, NVMe-MI for Out-of-band Management, Telemetry, Persistent Event Log, Sanitize, Firmware Upgrade without Reset, AES Data Encryption, Secure Boot and other important features.
PBlaze6 6930 adopts U.3 interface, provides support for both U.2 and U.3 backplanes. It can be used directly on existing servers, or replaced by SAS/SATA disks in a same slot with three-mode controller.