SANTA CLARA, Calif. (August 8, 2023) -- Memblaze, the leading supplier of enterprise SSD products and solutions, today officially released its latest enterprise PCIe 5.0 NVMe SSD, the PBlaze7 7940 series, at FMS 2023. Equipped with Marvell's Bravera™ SC5 controller and the new generation NAND flash technology, PBlaze7 7940 delivers an impressive 2.5 times the performance and 1.5 times the power efficiency compared to conventional PCIe 4.0 SSDs. This exceptional performance enables it to meet the growing storage performance demands for cutting-edge digital technology applications.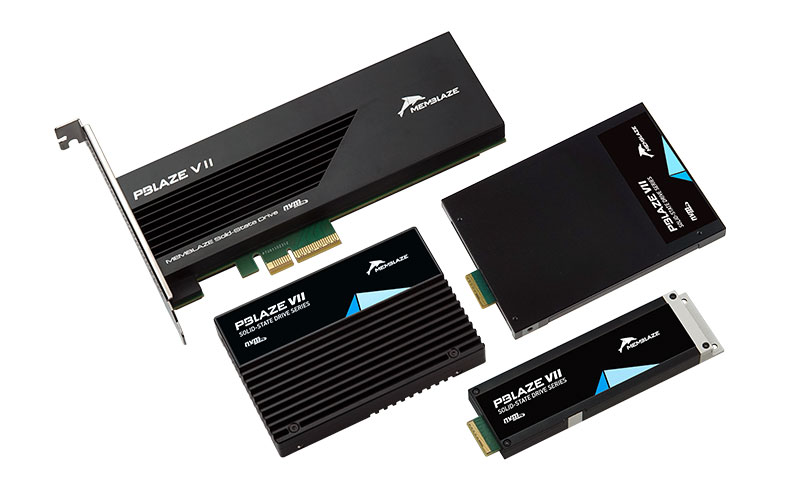 PBlaze7 7940 Series PCIe 5.0 Enterprise SSD
Developed on Memblaze Unified Framework Platform (MUFP), the PBlaze7 7940 showcases impressive 4K random read/write performance, achieving up to 2,800K IOPS / 700K IOPS, which is 2.5 times and 1.75 times higher than previous PCIe 4.0 products. Additionally, the sequential read and write performance has experienced a significant 100% improvement, reaching 14GB/s and 10GB/s respectively.
Notably, the latency has been substantially reduced to as low as 55 / 9μs, enabling accelerated critical business applications and ensuring seamless operation of latency-sensitive applications like machine learning and cloud computing.
"We are excited to release the latest generation PCIe 5.0 NVMe SSDs," said Dr. Taile Zhang, CEO of Memblaze. "The rise of AIGC has sparked an explosive growth in computational demands, while also raising higher requirements for storage performance. With the doubled performance improvement and extremely low latency optimization of the PBlaze7 7940, it is well-suited to meet the demands of modern applications."
"We congratulate Memblaze on the successful launch of their PCIe NVMe 5.0 SSDs. As a valued ecosystem collaborator, Memblaze showcases exceptional SSD technology. The PBlaze7 7940 fully maximizes the benefits of our cloud-optimized Bravera SC5 SSD controller, enabling accelerated performance and reduced latency. With its enterprise-grade features, this SSD is ideal for business-critical applications and high-performance workloads, further solidifying its position as one of the leading offerings in the market," said Steve Fingerhut, Marvell Sr. Vice President, Flash Marketing, Storage Products Group (SPG).
The PBlaze7 7940 is available in capacities ranging from 3.2TB to 15.36TB, offered in multiple form factors including 2.5-inch U.2, EDSFF E3.S, E1.S, and HHHL AIC. This extensive range of options ensures compatibility with diverse deployment environments. With its optimized heat dissipation design and innovative power efficiency algorithms, the PBlaze7 7940 achieves a read efficiency of 970MB/s per watt, significantly enhancing data center energy efficiency.
The PBlaze7 7940 incorporates support for SR-IOV (Single Root I/O Virtualization) to maximize the utilization of resources and enhance virtualization capabilities. Additionally, the PBlaze7 7940 has also upgraded to NVMe 2.0 and OCP 2.0 specifications, providing advanced enterprise features including NVMe-MI 1.2b out-of-band management, end-to-end data protection, TCG Opal 2.0, 128K atomic writes and more.